Thank you for all your amazing support!!
Focus on Students
We are all about our students!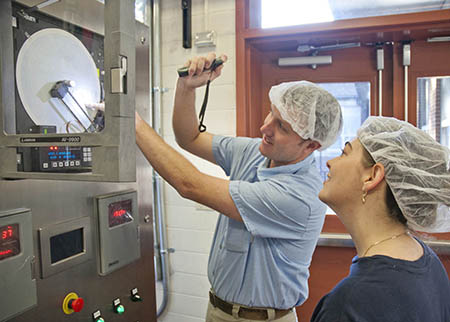 Our mission is to provide our students with the skill sets they need to work effectively and productively within the food industry. By partnering with Sweetwater Valley Farm, students have real-life experiences in dairy operations and cheese production, from start to finish. They see first hand what it takes, all the way from raising cows, to generating milk, to how milk is turned into cheese, and then packaged and sold to the market. Throughout this process, they also learn about manufacturing, safety, and regulatory issues, all of which better prepare them to become valuable employees in the industry. And by starting a cheese business inside the university, students are learning about entrepreneurial ventures and gaining business skills. They learn about market demand, pricing, profitability, logistics, marketing, and selling. This provides them with an even more diverse skill set desired by the industry.​​
Future
Just in time for the fifth anniversary of our All Vol Cheese we have collaborated with the Department of Industrial & Systems Engineering and Sweetwater Valley Farm to create the new Power T cheese. This product is hand cut by our students and is a combination of orange and white cheddars. We will begin taking pre-orders for this product fall 2020 and will be available just in time to ship to you favorite Vol for the holidays. Our other wonderful cheeses are currently available to be shipped all over the continental United States.
History
The Food Science and Technology Department was originally formed in 1972 and included all teaching, research, and extension operations in UTIA that were related to food, including the UT Creamery. Until it closed in the fall of 1989, the UT Creamery was the source of high-quality milk and dairy products for the university. In 2013, Food Science and Technology decided to bring back part of the old creamery to raise awareness of the department and its mission, provide hands-on learning opportunities for students, and provide funds for student programs. However, since the old creamery building had been re-purposed, it quickly became clear that a new facility would be needed to accomplish this goal. Until we can build a new facility, we have partnered with Sweetwater Valley Farm to produce our first product, All Vol Cheese. Students have interned at Sweetwater Valley Farm and benefited from the hands-on experience of manufacturing cheese. They also help the department market the cheese online and sell it on campus. Our ultimate goal is to bring back the tradition of the UT Creamery and the great products of the past. Using milk from one of the UT dairies, a new UT Creamery would produce cheese, ice cream, and yogurt. A new state-of-the art facility will better prepare Food Science and Technology graduates to work in the food processing and dairy products industries. Visit the UT Creamery website for more information.
Say "CHEESE!" All Vol Cheese, that is! The most delicious way to support UT students!